SP-3U/6U Series
Wide-range High-power Programmable DC Power Supply
This series high power programmable DC power supply adopts high frequency isolation and active PFC design, which makes it can achieve high efficiency at any output point. DSP and FPGA control circuit provides faster but stable internal data computing and response capability. Solar array simulation function provides a unique feature to simulate the output characteristics of a solar panel.Users can select built-in standard automotive power network voltage curves to do the DUT performance test directly according to the demand. Built-in smart 3-stage charging algorithm simulation which is suitable for commonly known types of batteries on the market. List and Step modes can be used for auto sequence output. Built-in RS232, RS485 and USB communication interfaces, LAN&GPIB or CAN communication card is optional.
Product Features
Large color touch screen with intuitive interface provides an excellent intuition operational experience

3-phase input voltage meets worldwide power distribution regulation, AC mains 187~305Vac/340~480Vac for optional

Constant voltage (CV), constant current (CC) and constant power (CP) operation mode, CC or CV working priority setting

Adjustable voltage/current slew rate

DDS arbitrary function generator*

Solar panel I-V curve simulation function*

Smart 3-stage charging algorithm simulation*

Battery simulator function*

List/ Step mode programming

TTL/Analog control and monitoring

Built-in standard automotive power network voltage curves*

Full protection: OVP, OCP, OPP and OTP protection

Supports master-slave mode, paralleling up to 16 units

Supports SCPI commands, provides web GUI function

* Only professional version units support these functions
Function & Advantage
Graphical User Interface
The large color touch screen provides simple and fast operation for customers, real-time update of display output data and power status.The actual values are displayed with bigger char acters, so they can be read from a large distance.

Wide Input Voltage Range & High Power Density
3-phase input voltage range 187~480Vac meets worldwide power distribution regulation. 36kW/6U high density, higher efficiency, lower ripple and fast response make it ideal for test requirements in different periods of different applications. This series power supply can have from one to three internal 6kW power blocks, each of which is connected across a separate phase of the 3-phase AC mains. The following figures illustrate how to install three 6kW units or three 12kW units to obtain a balanced current draw on the 3-phase AC mains.

CC & CV Priority
This series power supply provides CC/CV priority function allows the user to select suitable mode correspond to test requirement, let the output be voltage high speed or current no overshoot mode. Below shows an application of CC priority to avoid current overshoot during LED test.

Adjustable Voltage/Current Slew Rate
This series power supply provides adjustable rise and fall time setting for voltage and current. Adjustable time range 1ms~24h.

List/Program/Step Mode Programming
This series power supply provides List/Program/Step modes for output waveform programming. Users can edit the voltage/current value & the time of each step in advance and provide the power supply with a trigger signal. Then the preset sequences / waveform will be executed automatically according to the defined files. Sequence mode supports link between multiple files, the user can set the repeat times of each file and the total repeat times of the complete sequence file.
< Professional Version Power Supply Function >
DDS Arbitrary Function Generator
This series power supply includes a true function generator which can generate typical functions as displayed below, convenient for editing or directly recall. Additional to the standard functions, this arbitrary generator is accessible for the creation and execution of complex sets of functions, which is can be used for testing purposes in development and production.

Built-in Standard Automotive Power Network Voltage Curves
This series power supply has built-in German DIN40839 standard voltage curve for the automotive power network and the international standard ISO-16750-2 pulse waveform. The fast rise/fall response time together with arbitrary function generate ability make it can truly simulate the influence on the performance of automotive electronic equipment under different test conditions, is the preferred power testing instrument in the automotive electronics industry.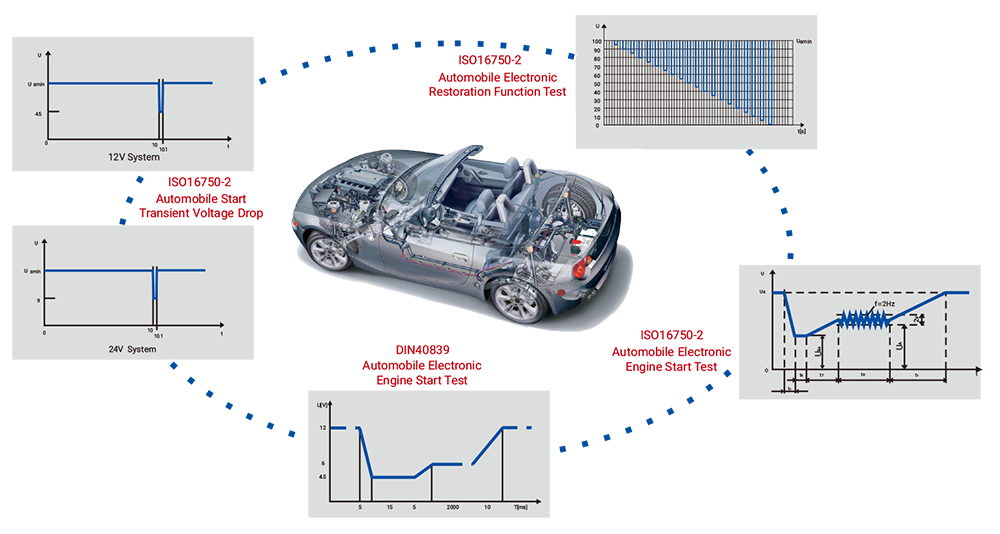 Solar Panel I-V Curve Simulation Function
The power supply provides an unique feature to simulate the output characteristics of a solar array includes Curve Mode, User-defined Mode and SAS Mode. With Curve mode, only need to set four parameters to simulate the solar array I-V curve. With User-defined mode, user can shape an I-V curve by entering up to 4096 points to simulate dynamic cloud cover effect which is useful for MPPT performance evaluation on PV inverter device. With built-in SAS mode, user can set the parameters to simulate I-V curve characteristic output and generate reports.

Smart 3-stage Charging Algorithm Simulation
This series power supply adopts 3-stage charging algorithm, built-in charging curves which is suitable for the commonly known types of batteries on the market. Users can directly recall the default curves or change the switching conditions at different charging stage according to the test requirement. Through the internal design, it improved and optimized hardware improvements, the current passing from the battery to power supply will be less than 10mA at any battery voltage when turn off the power supply. Thus avoid battery capacity loss, even when there is no anti reverse irrigation equipment.

Battery Simulator Function
This series power supply built-in typical battery internal resistance curves and discharging curves can easily simulate battery behavior in real-case.

Options & Accessories
Input protective cover (standard)Standard for 3U models

Input protective cover (standard)Standard for 6U models

RS-232 communication cable (standard)For RS-232 communication

USB communication cable (optional)For USB communication

Parallel cable (optional)Connect for master-slave communication

Power cable (optional)4M or 10M

GPIB & LAN card & communication cable (optional)for communication between GPIB and LAN

CAN card (optional)For CAN communication

Remote I/O control and monitor card (optional)For external analog control and monitoring

Professional version upgrade software (optional)Upgrade version from advanced to professional
Model Search
| | | | | | | | | | |
| --- | --- | --- | --- | --- | --- | --- | --- | --- | --- |
| Model | Voltage | Current | Power | Voltage Ripple | Current Ripple | Response(Voltage Increase) | Response(Voltage Drop) | Size | |
| SP80VDC6000W | 80V | 200A | 6000W | <180mVpp, <15mVrms | <100mArms | <15ms (No load), <30ms (Full load) | <850ms (No load), <15ms (Full load) | 3U | Inquiry |
| SP80VDC12000W | 80V | 400A | 12000W | <288mVpp, <23mVrms | <200mArms | <15ms (No load), <30ms (Full load) | <850ms (No load), <15ms (Full load) | 3U | Inquiry |
| SP80VDC18000W | 80V | 600A | 18000W | <320mVpp, <25mVrms | <300mArms | <15ms (No load), <30ms (Full load) | <850ms (No load), <15ms (Full load) | 3U | Inquiry |
| SP80VDC24000W | 80V | 800A | 24000W | <320mVpp, <25mVrms | <360mArms | <15ms (No load), <30ms (Full load) | <850ms (No load), <15ms (Full load) | 6U | Inquiry |
| SP80VDC30000W | 80V | 1000A | 30000W | <320mVpp, <25mVrms | <450mArms | <15ms (No load), <30ms (Full load) | <850ms (No load), <15ms (Full load) | 6U | Inquiry |
| SP80VDC36000W | 80V | 1200A | 36000W | <320mVpp, <25mVrms | <540mArms | <15ms (No load), <30ms (Full load) | <850ms (No load), <15ms (Full load) | 6U | Inquiry |
| SP165VDC12000W | 165V | 180A | 12000W | <540mVpp, <50mVrms | <100mArms | <15ms (No load), <30ms (Full load) | <900ms (No load), <15ms (Full load) | 3U | Inquiry |
| SP165VDC24000W | 165V | 360A | 24000W | <540mVpp, <50mVrms | <200mArms | <15ms (No load), <30ms (Full load) | <900ms (No load), <15ms (Full load) | 6U | Inquiry |
| SP165VDC36000W | 165V | 540A | 36000W | <540mVpp, <50mVrms | <300mArms | <15ms (No load), <30ms (Full load) | <900ms (No load), <15ms (Full load) | 6U | Inquiry |
| SP250VDC18000W | 250V | 180A | 18000W | <550mVpp, <50mVrms | <100mArms | <15ms (No load), <30ms (Full load) | <950ms (No load), <15ms (Full load) | 3U | Inquiry |
| SP360VDC6000W | 360V | 42.5A | 6000W | <320mVpp, <55mVrms | <21mArms | <15ms (No load), <115ms (Full load) | <650ms (No load), <15ms (Full load) | 3U | Inquiry |
| SP360VDC12000W | 360V | 85A | 12000W | <320mVpp, <55mVrms | <43mArms | <15ms (No load), <115ms (Full load) | <650ms (No load), <15ms (Full load) | 3U | Inquiry |
| SP360VDC18000W | 360V | 127.5A | 18000W | <320mVpp, <55mVrms | <64mArms | <15ms (No load), <115ms (Full load) | <650ms (No load), <15ms (Full load) | 3U | Inquiry |
| SP360VDC24000W | 360V | 170A | 24000W | <350mVpp, <60mVrms | <85mArms | <15ms (No load), <115ms (Full load) | <650ms (No load), <15ms (Full load) | 6U | Inquiry |
| SP360VDC30000W | 360V | 212.5A | 30000W | <350mVpp, <60mVrms | <106mArms | <15ms (No load), <115ms (Full load) | <650ms (No load), <15ms (Full load) | 6U | Inquiry |
| SP360VDC36000W | 360V | 255A | 36000W | <350mVpp, <60mVrms | <128mArms | <15ms (No load), <115ms (Full load) | <650ms (No load), <15ms (Full load) | 6U | Inquiry |
| SP500VDC6000W | 500V | 32A | 6000W | <600mVpp, <150mVrms | <16mArms | <15ms (No load), <80ms (Full load) | <1500ms (No load), <15ms (Full load) | 3U | Inquiry |
| SP500VDC12000W | 500V | 64A | 12000W | <650mVpp, <160mVrms | <32mArms | <15ms (No load), <80ms (Full load) | <1500ms (No load), <15ms (Full load) | 3U | Inquiry |
| SP500VDC18000W | 500V | 96A | 18000W | <650mVpp, <160mVrms | <48mArms | <15ms (No load), <80ms (Full load) | <1500ms (No load),<15ms (Full load) | 3U | Inquiry |
| SP500VDC24000W | 500V | 128A | 24000W | <650mVpp, <160mVrms | <64mArms | <15ms (No load), <80ms (Full load) | <1500ms (No load), <15ms (Full load) | 6U | Inquiry |
| SP500VDC30000W | 500V | 160A | 30000W | <650mVpp, <160mVrms | <80mArms | <15ms (No load), <80ms (Full load) | <1500ms (No load), <15ms (Full load) | 6U | Inquiry |
| SP500VDC36000W | 500V | 192A | 36000W | <650mVpp, <160mVrms | <96mArms | <15ms (No load), <80ms (Full load) | <1500ms (No load), <15ms (Full load) | 6U | Inquiry |
| SP750VDC6000W | 750V | 21A | 6000W | <900mVpp, <225mVrms | <11mArms | <15ms (No load), <80ms (Full load) | <600ms (No load), <20ms (Full load) | 3U | Inquiry |
| SP750VDC12000W | 750V | 42A | 12000W | <1000mVpp, <250mVrms | <22mArms | <15ms (No load), <80ms (Full load) | <600ms (No load), <20ms (Full load) | 3U | Inquiry |
| SP750VDC18000W | 750V | 63A | 18000W | <1000mVpp, <250mVrms | <33mArms | <15ms (No load), <80ms (Full load) | <600ms (No load), <20ms (Full load) | 3U | Inquiry |
| SP750VDC24000W | 750V | 84A | 24000W | <1000mVpp, <250mVrms | <44mArms | <15ms (No load), <80ms (Full load) | <600ms (No load), <20ms (Full load) | 6U | Inquiry |
| SP750VDC30000W | 750V | 105A | 30000W | <1000mVpp, <250mVrms | <55mArms | <15ms (No load), <80ms (Full load) | <600ms (No load), <20ms (Full load) | 6U | Inquiry |
| SP750VDC36000W | 750V | 126A | 36000W | <1000mVpp, <250mVrms | <66mArms | <15ms (No load), <80ms (Full load) | <600ms (No load), <20ms (Full load) | 6U | Inquiry |
| SP1000VDC12000W | 1000V | 32A | 12000W | <1500mVpp, <320mVrms | <22mArms | <15ms (No load), <85ms (Full load) | <1700ms (No load), <15ms (Full load) | 3U | Inquiry |
| SP1000VDC18000W | 1000V | 42.5A | 18000W | <1000mVpp, <150mVrms | <25mArms | <15ms (No load), <120ms (Full load) | <650ms (No load), <15ms (Full load) | 3U | Inquiry |
| SP1000VDC24000W | 1000V | 64A | 24000W | <1500mVpp, <320mVrms | <26mArms | <15ms (No load), <85ms (Full load) | <1700ms (No load), <15ms (Full load) | 6U | Inquiry |
| SP1000VDC36000W | 1000V | 96A | 36000W | <1500mVpp, <320mVrms | <48mArms | <15ms (No load), <80ms (Full load) | <1700ms (No load), <15ms (Full load) | 6U | Inquiry |
| SP1500VDC12000W | 1500V | 21A | 12000W | <2500mVpp, <600mVrms | <11mArms | <15ms (No load), <80ms (Full load) | <700ms (No load), <20ms (Full load) | 3U | Inquiry |
| SP1500VDC18000W | 1500V | 32A | 18000W | <1950mVpp, <650mVrms | <22mArms | <15ms (No load), <90ms (Full load) | <1800ms (No load), <15ms (Full load) | 3U | Inquiry |
| SP1500VDC24000W | 1500V | 42A | 24000W | <2500mVpp, <600mVrms | <22mArms | <15ms (No load), <80ms (Full load) | <700ms (No load), <20ms (Full load) | 6U | Inquiry |
| SP1500VDC36000W | 1500V | 63A | 36000W | <2500mVpp, <600mVrms | <33mArms | <15ms (No load), <80ms (Full load) | <700ms (No load), <20ms (Full load) | 6U | Inquiry |
| SP2250VDC18000W | 2250V | 21A | 18000W | <3200mVpp, <750mVrms | <11mArms | <15ms (No load), <85ms (Full load) | <800ms (No load), <20ms (Full load) | 3U | Inquiry |
Inquiry